Today I am happy to be a co-host for Belle Brita's Love Blog Challenge. Today's theme is Legacy. You can find more details about the challenge at the end of the post. This post also contains affiliate links.
So, I figured it was time to let you guys onto a big secret I've been keeping: I'm pregnant! And, yes, that's why I've been MIA from the blog for the last two months. The first trimester was a pretty tough couple of months for me.
How we found out: 
I took a pregnancy test while we were in the middle of our road trip down the California coast. Since we were on vacation, I wasn't able to do the pregnancy reveal I planned for my husband. I took the test in our hotel bathroom in Santa Barbara and pretty much just handed it to him after the result came up.
Was it a surprise? 
No. We had been trying for several months before we got the positive test. I had suspected for a week that I might be pregnant because I was very sensitive to smells and pretty nauseous so honestly the positive test was only a confirmation.
Who we told first: 
My parents, my husband's parents, and then a couple close friends. We told our siblings around Christmas time. We gave my brother this book. Even though our parents already knew, we also gifted them our favorite board books as children from the baby.
Our coffee themed pregnancy announcement:
My husband wanted to make a general announcement on Facebook, so I made this graphic after we found the onesie. My husband is a big coffee drinker, so he made the post on his page with the caption "Future coffee addict arriving this summer." Check out the cute coffee cup teether featured and some coffee themed onesies (similar, similar). We made this coffee themed pregnancy announcement at 13 weeks.
How far along am I? 
15 weeks tomorrow, baby is the size of a navel orange.
When is the due date?
Baby's due date is August 2nd. Which is pretty special, because that is the day that we got engaged!
Is it a boy or a girl?
We won't know until the 20 week ultrasound, and although we are planning on finding out, we haven't decided whether or not we will be keeping it a secret from everyone else.
The first ultrasound:
We had the first ultrasound several weeks ago. Baby was hiccuping and waved at us!
Favorite thing about being pregnant: 
How excited my husband has been to tell everyone and when he tells the baby, "Daddy loves you."
Least favorite thing about being pregnant:
Pretty much everything else.
What I will be sharing on the blog:
Don't expect a bunch of bump photos or weekly updates. I will be blogging about pregnancy, especially the effects it has on my mental health, and probably recaps for each trimester.
Meet Today's 2018 Love Blog Challenge Hosts!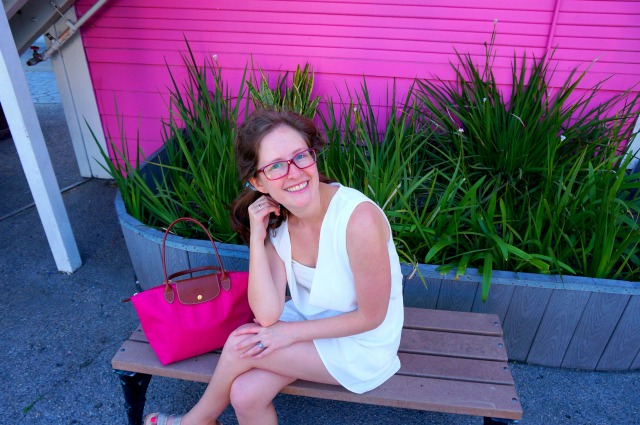 Twitter | Instagram | Facebook | Pinterest | Tumblr | Google+ | Bloglovin
Brita Long is the pink and sparkly personality behind the Christian feminist lifestyle blog, Belle Brita. While her first love will always be Paris, she lives happily with her husband Daniel Fleck in the Atlanta area.
Blog | Twitter | Facebook | Bloglovin
Mardra Sikora believes in the power of words. She uses both fiction and non-fiction to advocate for and with her adult son, Marcus. She is co-Author of The Parent's Guide to Down Syndrome: Advice, Information, Inspiration, and Support for Raising Your Child from Diagnosis through Adulthood. Her work is also included in a variety of anthologies, national websites, and at Mardrasikora.com
An InLinkz Link-up